Why do I need an energy consultant?
First, let's talk about what an energy consultant is. An energy consultant is a professional person who uses various techniques and tools to evaluate the energy usage of a building and then devises a plan to reduce energy consumption to acceptable levels as determined by the owner and the standards in the industry. The consultant works with the owner and other contractors to see that any necessary changes are carried out to the specifications he sets forth to accomplish the goals the owner has chosen for the project.
Energy consulting is broken down into different focus areas. The broadest areas are whether the building is used for industrial or large enterprise purposes, if the building is commercial or if the building is a residence.
After that, the focus of the consultation is further refined to deal with several major issues. Some of these are:
Conservation of energy by changing the amount of usage
Conservation of energy by improving the building envelope
Conservation of energy by improving the appliances or systems
Conservation of energy by changing the usage to off-peak times
Lowering costs by purchasing less expensive power
Lowering costs by generating power or using renewable energy alternatives
Improving the comfort and safety of the occupants
Being responsible with environmental concerns

Tradewinds Appropriate Technologies primarily serves the residential and light commercial sector. We have dedicated ourselves to learning how to help owners in these sectors bring their energy use into control and to do so in a way that will increase the comfort and safety of the occupants.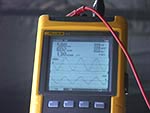 Because of the tools we have obtained and the training we have received in various disciplines, we are able to combine these tools, knowledge and skill sets and bring them to bear in a comprehensive way to help you map out the proper course for your project.
So, the answer to the question?
You need an energy consultant because you haven't been trained in all the ways necessary to see the larger picture of energy use, building science, environmental responsibility, comfort and safety and many other things. You don't have the tools and procedures necessary to test your home and its systems.
That's why we're here—so you don't have to.


Tradewinds has the
latest certifications to perform energy audits.

Read more here about Energy Audits