Accu-Rated™ means Tested Performance
Design, Consulting and Performance Testing
Tradewinds is one of the only third-party inspection companies in Texas doing third-party design and testing with a view to insuring a home will actually deliver energy efficiency. There are many companies out there giving homes a "score" of how well the home should perform if certain building practices are followed. But what can you really do with a "score"?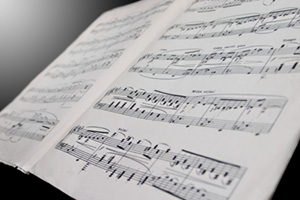 The difference between the performance based approach and rating a home is like listening to a live performance of an orchestra or reading the musical score. We often ask folks if they want to read a "score" ?

OR
Do they want to experience the performance?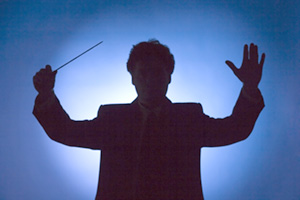 For instance, an ENERGY STAR® rating will give you the "score" (the index) to read, but a properly tuned home will give you the energy performance you are seeking with the resulting efficiency and comfort. You need a conductor to direct all the parts of the "symphony" of your energy usage to make the beautiful music of maximum energy efficiency and comfort.
Are you a Cave Man?
The most energy efficient home is one with the power turned off. Do you want to live that way? Of course not. If you wanted to live in a cave, you wouldn't be building a beautiful modern home. Unfortunately, without proper design and faithful observance of that design, a modern home can become as uncomfortable as a cave.
The Missing Link—the Air Conditioning and Ventilation Systems
We have found that many energy programs miss certain aspects of energy efficiency in their current form. These building science protocols are good, but they are based upon the assumption that the mechanical systems (air conditioning, heating and ventilation) will deliver 100% of the AHRI "rated" performance for that system. Since the mechanical systems use more energy than anything else in the home, this is an important matter.
The problem is, no system will ever match the AHRI rating, since those ratings were done in a laboratory under conditions you will never see in your home. Under real-world conditions, we often see huge performance drops. It is not unrealistic to see 25-35% drops in delivered performance from the AHRI rated performance.
Common installation practices further degrade the performance
While duct leakage is not as large a problem as it used to be in new homes, the hidden problem today is duct design and particularly duct sizing. Common practice often is to under size both the return and supply duct work. Usually there are long runs of flex duct and sharp bends and curves that add restriction to the air flow.
Delivered performance is in direct relationship to air flow. Restricted air flow means less performance and high energy usage. These restrictions can be overcome by up-sizing the ducts in many cases and in other cases, more duct runs are necessary.
It is very common for us to document actual delivered cooling at only
55% to 65% of expected capacity
To make a simple analogy from that statistic, imagine paying for, and basing all your energy calculations upon, an expected 11.5 EER (Energy Efficiency Ratio) system. Then apply the 65% actual performance and you will only see roughly 7.5 EER. That is not a perfect scientific analogy, but it gets the point across.
Another way to look at it—for every dollar spent to condition
the air in your home, you are wasting 35 cents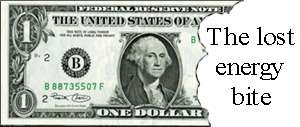 We're not Guessing, We're Measuring
In the field, we actually measure the delivered EER and compare it to the expected EER at the real-world conditions from the manufacturer's Detailed Cooling Capacity charts. This is a clear and precise way to measure efficiency.
That's Not All...
We are not just able to test and verify the performance of the home, but we are able to shepherd the fixes. We are licensed HVAC contractors and have been so for over 25 years.With the results of our testing and years of experience, we are able to help other contractors improve their work and that gives you the efficiency and comfort you are paying for.
One Size Does Not Fit All
We tailor our services to the level that the client determines they need. If you want performance based testing, we do that. If you want custom design and oversight of our specifications, we do that. If you want us to fix problems, we do that. If you want air balancing at completion, we can do that too.
Offering all these services led us to the conclusion that what was needed was a comprehensive approach to ensure a client got all the value in his new home that he desired. It needed to be something that put all the pieces of the puzzle together to deliver proven performance and comfort as well as real energy efficiency.
To answer that need, we introduced a new comprehensive protocol here in Texas, the
Accu-Rated™ Home, which is made up of these critical elements:
Consult with the client to get the whole picture of the needs and desires for home comfort soultions.
Perform a custom, ACCA Manual J load calculation of the home or approve the HVAC contractor's load calculations.
Select the best matched HVAC equipment or approve the HVAC contractor's selection according to ACCA Manual S.
Design the HVAC duct systems or approve the HVAC contractor's design according to ACCA Manual D.
Consult with the HVAC contractor to share with them the vision of the project.
Inspect the duct systems at rough-in to make sure they followed our specifications.
Inspect at rough-in to insure that the ducts are not leaking.
Test the HVAC systems at completion for performance and oversee any repairs.
Air balance the systems to insure the rooms are getting the air flow that we specified. A home can't cool or heat efficiently without the proper air flow distributed to each room. That doesn't happen automatically; air balancing is an art.

The Accu-Rated™ Home protocol is the best insurance you can have that your home will give you energy efficiency and comfort.
If your home is built using the best design tools available, the design is followed exactly, the HVAC installation is tested to make sure the design is followed and then the performance is evaluated and tuned-up at the completion of your home, you will see true performance and true comfort.
Contact us today to find out what a Accu-Rated™ Home can do for you.