Spray Foam Insulation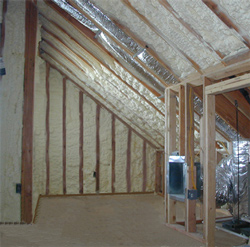 In the course of our consulting work, we began to see a trend
Homes were becoming tighter and more efficient due to the work of many craftsmen in the field and dedicated energy efficiency raters and consultants. In every case, we saw one technology that was bringing the best of sealing technology to bear in conventional framing applications. That technology was spray foam insulation.
The claims were significant:
Heating and cooling costs reduced by as much as 50%
Reductions in heating and cooling sizes by as much as 40% without losing efficiency or comfort levels
Draft free homes
Quiet homes even in very noisy environments
More dust free homes
Improved indoor air quality
Insulation that does not deteriorate or decompose
Overall comfort throughout the home is much improved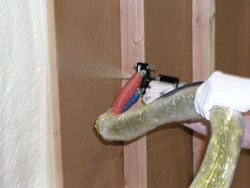 We set out to prove these claims for ourselves. As a result of our study, we concluded that these claims all had merit. The end result was we added another service to our growing list of skills. We became trained spray foam insulation contractors ourselves. It is the highest form of complement to this technology that we could giveŚwe became actively involved ourselves because we believe in it so much.

Then as our focus matured, we realized we could better serve the industry by acting as a third party consultant to other spray foam contractors. So, we shut down our spray foam services and continued in the role of providing third party testing and design services. Using the first person experience we gained in the field we found ourselves better equipped to provide expert consulting services to our clients.

Our subsequent testing with blower doors and HVAC system diagnostic tests have confirmed what we had been taught about spray foam.

#1
Tradewinds now offers a certification process for spray foam installations. Using visual inspection and blower door tests by our consultants of the newly installed insulation, we are able to certify that the foam is sprayed correctly and that the building envelope is tight.
This is a major step forward because it is easy to miss a hidden defect in a foam installation. Before the walls are covered, these defects can be detected and corrected. Reputable spray foam contractors love the certification because it sets them apart from their competition. Contact us for scheduling a spray foam certification test by calling the numbers listed below.
#2
Tradewinds has also made the decision to bring some highly qualified spray foam contractors under our wing to install spray foam in the homes for which we provide design services.
We completely supervise these installations and certify them when completed. We feel that these contractors have proved themselves to our satisfaction and we stand behind their work under our supervision. In this way, Tradewinds is able to serve many more clients with a quality product.
#3
We have seen that designers do not realize that the new super-insulated homes cause a strange phenomenon for our location in Texas.
We do not design for heating loads primarily here. However, the super-insulated homes with a slab floor need to take into account the heating load of the slab floor. The slab becomes the largest energy hog in these homes. The designer needs to specify an insulated slab to overcome this problem.
Once we saw that the technology was living up to its promise, we sent our technicians to the spray foam school at the Demilec headquarters in Arlington, Texas so they would be grounded in the technology and skills. We received additional training and help from the excellent staff at Demilec and then we began to spray foam, gaining more expertise as we covered thousands of square feet of walls and attic decks.
One of the first homes we sprayed was the residence of our president, Paul Wieboldt. Paul felt that we should try out this technology on his own home first. We tried something that we had long dreamed of as an experiment. We took an older home and sealed the attic without changing anything else in the home.
The results were amazing
The home uses much less energy, the family is staying much more comfortable. The HVAC system was running much less often and the folks with asthma were not suffering as many asthma attacks. The outside weather did not affect the home as much and the attic is almost the same temperature as the inside of the home.
Even sealing just the attic and not doing any other repairs made a huge difference. We now offer this upgrade to our clients as an option for an older home.
Whether you are designing your new home or upgrading your older model. Tradewinds can offer you a complete package of design or repairs for efficiency, indoor comfort and health benefits.
By utilizing our consultants to design the proper systems for your home and measuring the performance of finished product, you can be assured of getting everything you paid for.
A word of caution
Be aware that some contractors do not understand all the issues involved in designing a proper foam insulated house. Since we teach contractors how to size and design systems for today's modern high-efficiency homes, including foam insulation, we are able to design your systems to perform properly.
The greatest danger is causing high humidity due to A/C design flaws. HVAC design is our strong point. Even if you have another foam contractor, please let us help you design your systems to properly handle the humidity removal to prevent excess humidity issues.
With proper sizing of the HVAC systems, fresh air ventilation and proper dehumidification, we are thoroughly sold on using spray foam insulation.