Air Conditioning Performance Based Testing
Tradewinds Appropriate Technologies is certified by the National Comfort Institute in Air Balancing and Performance Based Testing.
We feel that True Performance Testing is the wave of the future for testing homes for HVAC performance. These diagnostic procedures yield real world data about how a home is performing at a given moment. There are no "smoke-and-mirrors" unreal numbers, but rather, we can tell you how your home is performing under the real loads and conditions it faces.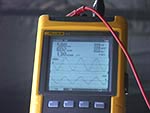 We also measure the actual energy use using a power analyzer and by computing that data against the performance of the system under real conditions, we are able to calculate the actual EER (Energy Efficiency Ratio) under the current conditions and compare that with the Manufacturer's EER rating for those conditions.
These data points allow us to see what steps can be taken to re-mediate under-performance, humid conditions and inefficiency—to name only a few.
Tradewinds was intimately involved in developing the protocols that were adopted in 2005 for testing homes in the Texas region for true performance testing.
Some elements of the True Performance Testing
| | |
| --- | --- |
| We measure airflow at each register to determine the CFM delivered by the supply and the return CFM that is feeding the system. | We measure the wet bulb and dry bulb temperatures to determine the BTU delivery of the system in your house, not just some artificial laboratory setting. |
| We measure the entering and exiting air temperatures at the AC condenser to determine the work the condenser is doing at the current conditions. | We measure the power used by the system to produce the BTU's with a power analyzer. |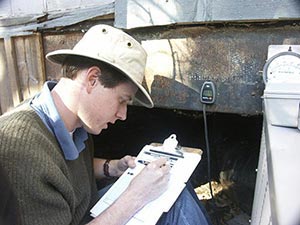 The most important tool in our arsenal—the trained, certified technician. Our techs, who are multi-certified in several disciplines, are trained to spot troubles and to take careful records of how your system is working.
As seen here, Chris is recording system pressures.